The Special Areas Board, Town of Oyen and the Palliser Economic Partnership were joined by Iron Horse Energy Services to celebrate the official ground breaking of the Oyen Rail Yard & Logistics Park project, October 24, 2017.
The Oyen Rail Yard & Logistics Park is a 155-acre multi-phase economic development project managed by the Special Areas Board, the Town of Oyen and the Palliser Economic Partnership. Phase 1 of this project will develop the existing rail yards located on the north edge of the Town of Oyen into a logistics park capable of managing up to 2500 cars annually, bringing in and shipping out a variety of materials ranging from specialty agricultural products to industrial construction project components. Estimated costs of the initial phase are $2.1 million and includes upgrades to existing rail, construction of new rail and initial site preparation. Once developed, the Oyen Rail Yard & Logistics Park will position this region as an intermediate transportation hub in Western Canada.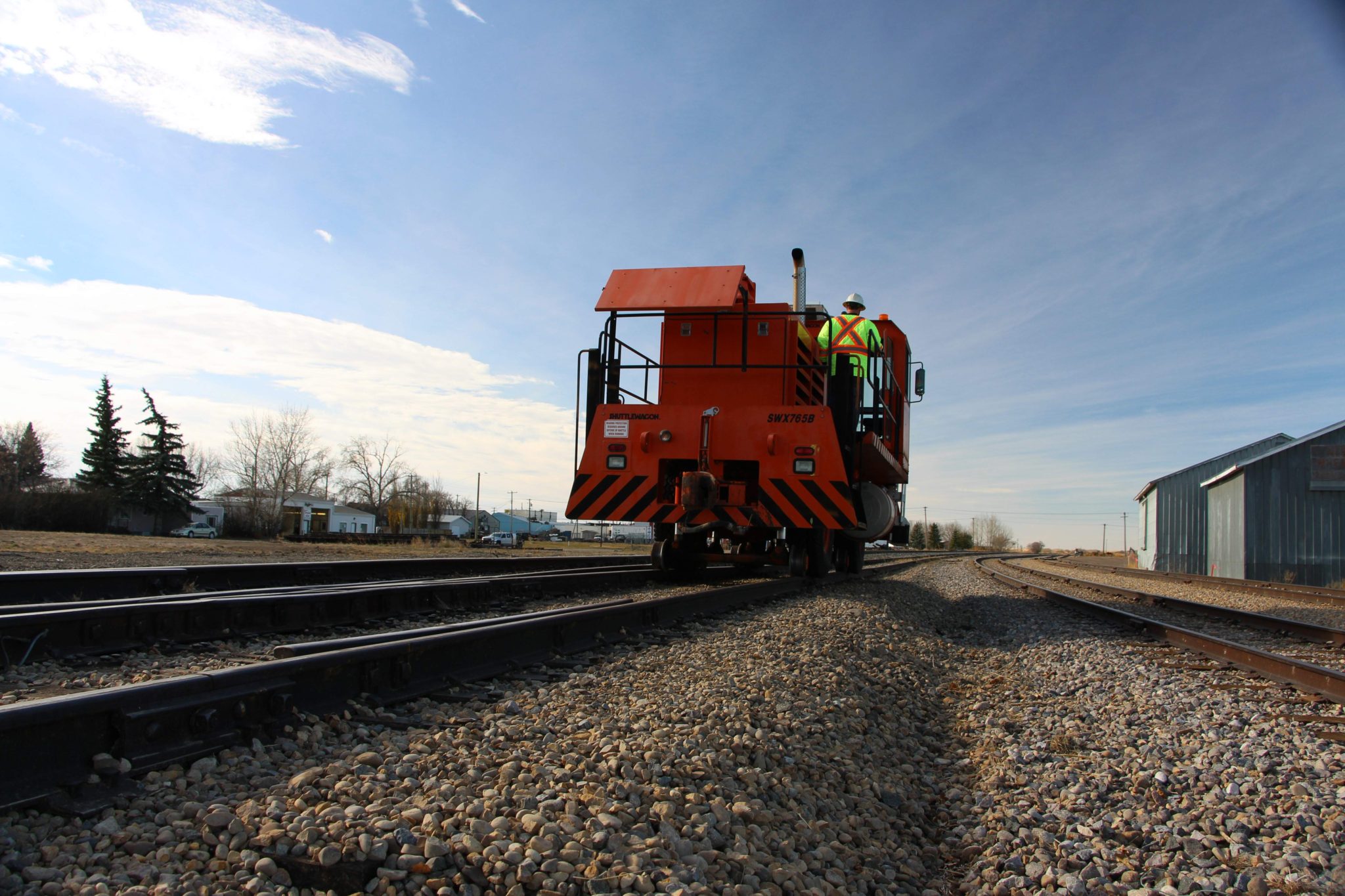 At the ground-breaking event Jay Slemp, Chairman of the Palliser Economic Partnership, linked this project and its resulting economic benefits to the history of rail in the region, noting "rail was the start of little towns and this area in 1909, providing opportunities for local producers and entrepreneurs.  A rail line meant opportunity for the community.  In 2017, this has not changed."
The importance of cooperation and collaboration between local municipalities, private industries and producers was highlighted throughout the afternoon. The Town of Oyen, the Special Areas Board and the Palliser Economic Partnership were recognized for bringing together everything necessary to realize this development project.
The role of local municipalities to build the infrastructure which enables local economic development was noted by Jay Slemp.  "The job of government is to build the base, then let the people build their own success on it.  I hope this is just the first of many grand openings for this project and for the area."
Jordon Christianson, Chair of the Special Areas Board, said "the Board was pleased to find a project which enabled a direct investment right here in the Special Areas.  It was not necessarily an easy decision to make, but an easy one to stand behind.  This project will act as a catalyst for economic opportunities for the town, and for the larger region."
Doug Jones, Mayor of Oyen, thanked the local Town Council and the Special Areas Advisory Council for their support. He recognized the confidence in this project shown by the Town and Special Areas through their financial support of the development and thanked local officials and administration for recognizing the long-term potential of this project for the town and larger region. Iron Horse Energy Services was also recognized for their key role, as he shared "this project would have not moved ahead without them. Their confidence in this project happening allowed us to bring everyone on board and turn it into a reality."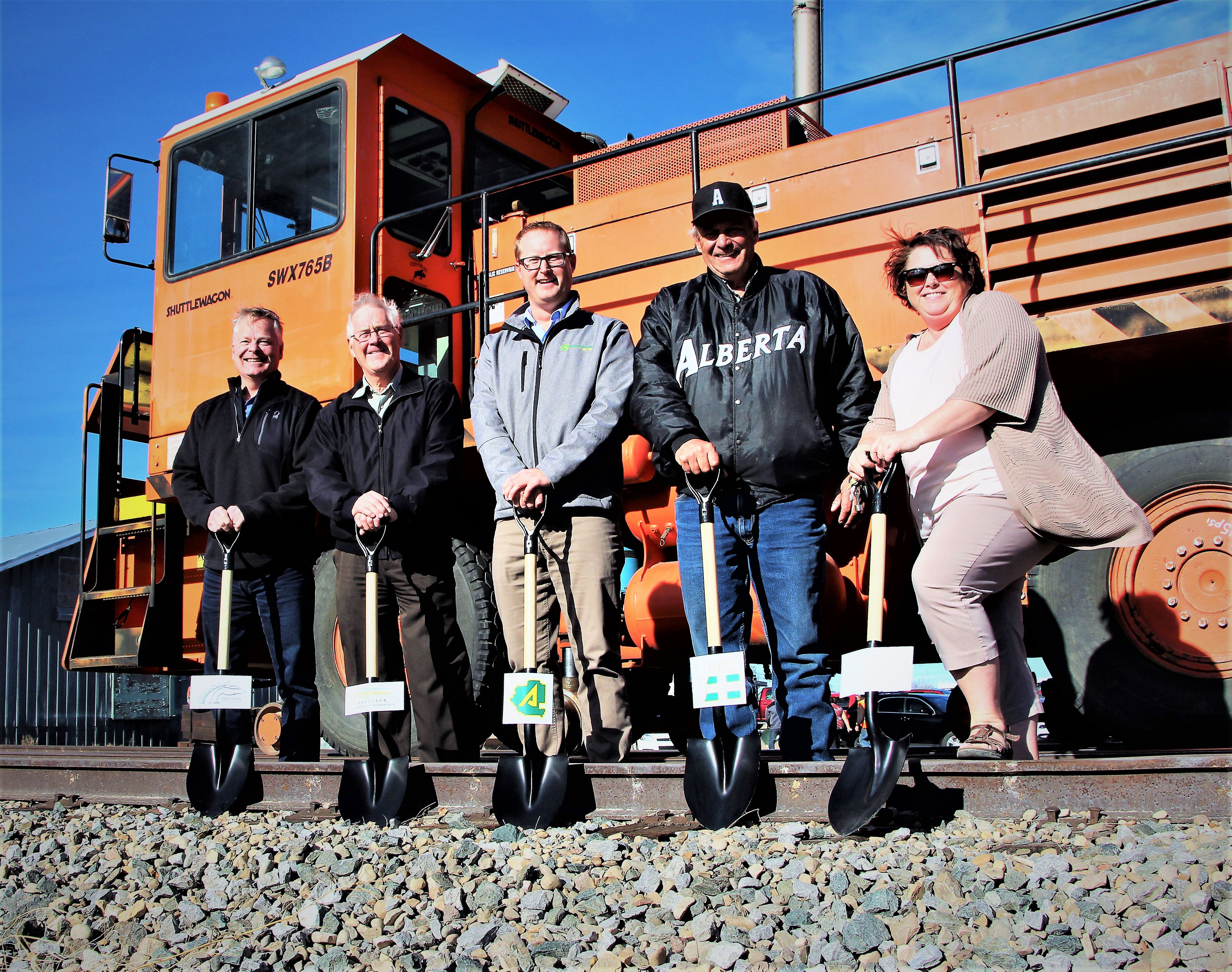 L-R: Todd Garman (Iron Horse), Jay Slemp (PEP) Jordon Christianson (SAB), Doug Jones (Mayor of Oyen), Charmain Snell (CAO of Oyen)