PURPOSE
Community pastures in the Special Areas exist to provide a reliable allotment to assist in the establishment and stabilization of farm and ranch units within the Special Areas.
There are five community pastures operating in the Special Areas which cover ~177,00 acres, and provide annual grazing allotments to approximately 150 patrons each year.
- Buffalo-Atlee
- Bullpound
- Remount
- Richdale
- Sounding Creek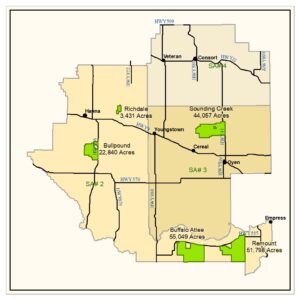 Roles & Responsibilities
Community pasture patrons are producers who have animals located in one of the five Special Areas Board community pastures who pay allotment fees to the Special Areas Board.
Administration of the community pastures is provided by Special Areas personnel, including the Special Area No. 2 Administrator and the Director of Property Administration. Administration personnel provide operational oversight, administrative supervision, and manage pasture applications/annual allotments.
The district office for Special Area No. 2 provides administrative support to this process and is the primary point of contact for any allotment or application questions.
Each pasture association has an allotment committee that includes membership from pasture associations. Allotment committee members are selected from current pasture association members and Special Areas Administration.
These groups meet annually to develop allotment recommendations for the upcoming grazing season.
Specific responsibilities of the allotment committee are addressed in section 11 of the Community Pasture policy.
Each community pasture has an assigned Range Supervisor and Range Rider.
Special Areas Board employees, the Range Supervisor and Rider(s) manage the day-to-day operations at each community pasture.
Applications, Allotments, Appeals & Rates
Applications must be received by a Special Areas district office by December 31 for a patron to be eligible to receive allotments in the upcoming season.
Community pasture allotments are determined based on applications submitted each year.
       For example, allotments for the 2019 grazing season were determined based on applications submitted by December 31, 2018.
Applications are reviewed for compliance with the community pasture policy and for completeness.
Allotments are determined on an annual basis by the Special Areas Board, based on the recommendations of the local allotment committee.
Allotments are issued based on the application information provided, the recommendations of the pasture's allotment committee, and the application of the current community pasture policy.
Allotment permit letters are issued in the spring of each year to approved patrons. Patrons are required to pay in advance grazing season fees for their cattle prior to entering pasture.
Allotments may be appealed in writing to the Special Areas Board within thirty (30) days of the issuance of the allotment permit letter.
Appeals shall be heard by the Special Areas Board with representation supplied from the allotment committee.
Community pasture rates are set annually by Ministerial Order based on the recommendation of the Advisory Council and Special Areas Board.
These rates are proposed each fall and are historically approved in the spring ahead of the grazing season.
Patrons not fulfilling their AUM allotment shall still be responsible to pay the full annual rate.