The Special Areas 2019 Fall Photo Contest is now open!
From now until November 15, send in your best photos showing the people, places and things that make Special Areas special to you. The top photo from each category will win their choice of prize: Special Areas branded gear, a 2 night camping certificate, or a 16" x 20" canvas print.
Please read the rules before submitting your photo.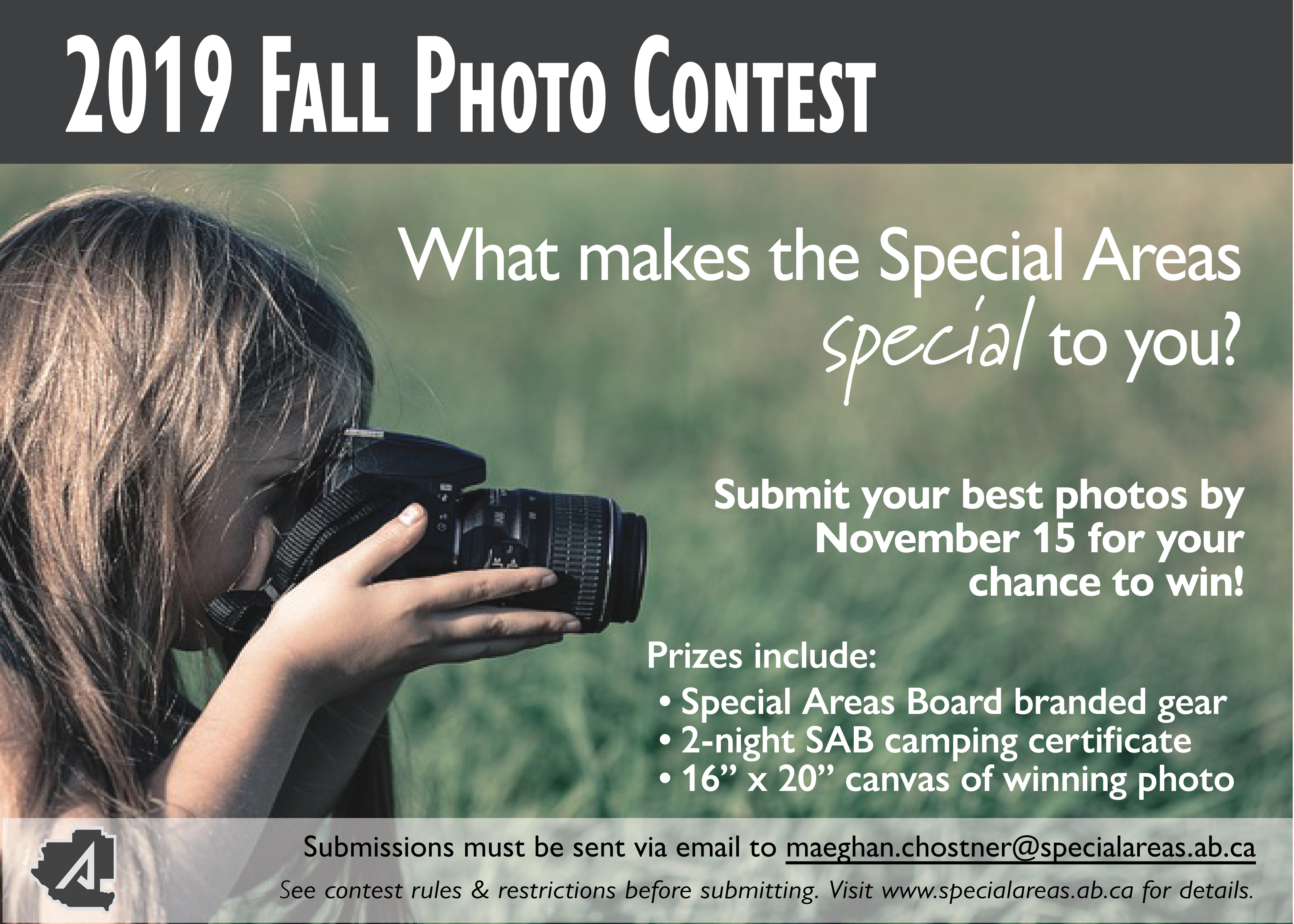 How will the winning photos be selected?
Eligible photos will be put into a Facebook gallery and posted to the Special Areas Board Facebook page where individuals will have the opportunity to vote on their favorite photo by "liking" the photo.

The photo with the most "likes" in each category on December 2, 2019 at 12:00 pm will be considered the winning photo. In case of a tie, Special Areas Board will decide.

There is a limit of one (1) prize per person in this Contest. In the case of an entrant submitting more than one (1) winning photo, the photo in that category with the next highest number of "likes" will be eligible for a contest prize.
What are the photo categories?
People: portraits, events, beauty, editorial, etc.

Places: buildings, landscapes, landmarks, aerial photography, etc.

Things: architectural, abstract, tools & equipment, animals, wildlife, etc.
How to submit your photo?
Photo(s) must be emailed to Maeghan.chostner@specialareas.ab.ca during the contest period. Submissions must identify which category they are being submitted in. Each photo can only be submitted in one (1) category. This is the only accepted method of submission.

Eligible photos will:

be submitted during the contest period with identifying information (photo title, photographer name, and contact information);

not have been previously exhibited outside of this contest or selected as a winner in any other contest;

be an original photo taken by the entrant with the entrant having all necessary rights in and to the photo;

be of sufficient size 5MB or higher, quality 300 dpi/ppi or higher, and in a .jpeg or .tif format;

be taken in the Special Areas 2, 3, or 4;

not contain any reference to or likeness of any identifiable third parties, unless consent has been obtained from all such individuals and their parent/legal guardian if they are under the age of majority; and

comply with the rules of this Contest.